Honoring Women All Day, Everyday
We celebrate the creators, the makers, the shakers who have left a mark on our society, our culture—our country.
Where would we be if it were not for the fierce, fearless women who refused to back down from a challenge? All we know is that we're grateful and we stand in awe and the many women who have paved the way for the rest of us. We stand in support always in protecting the lives and voices of women throughout the world.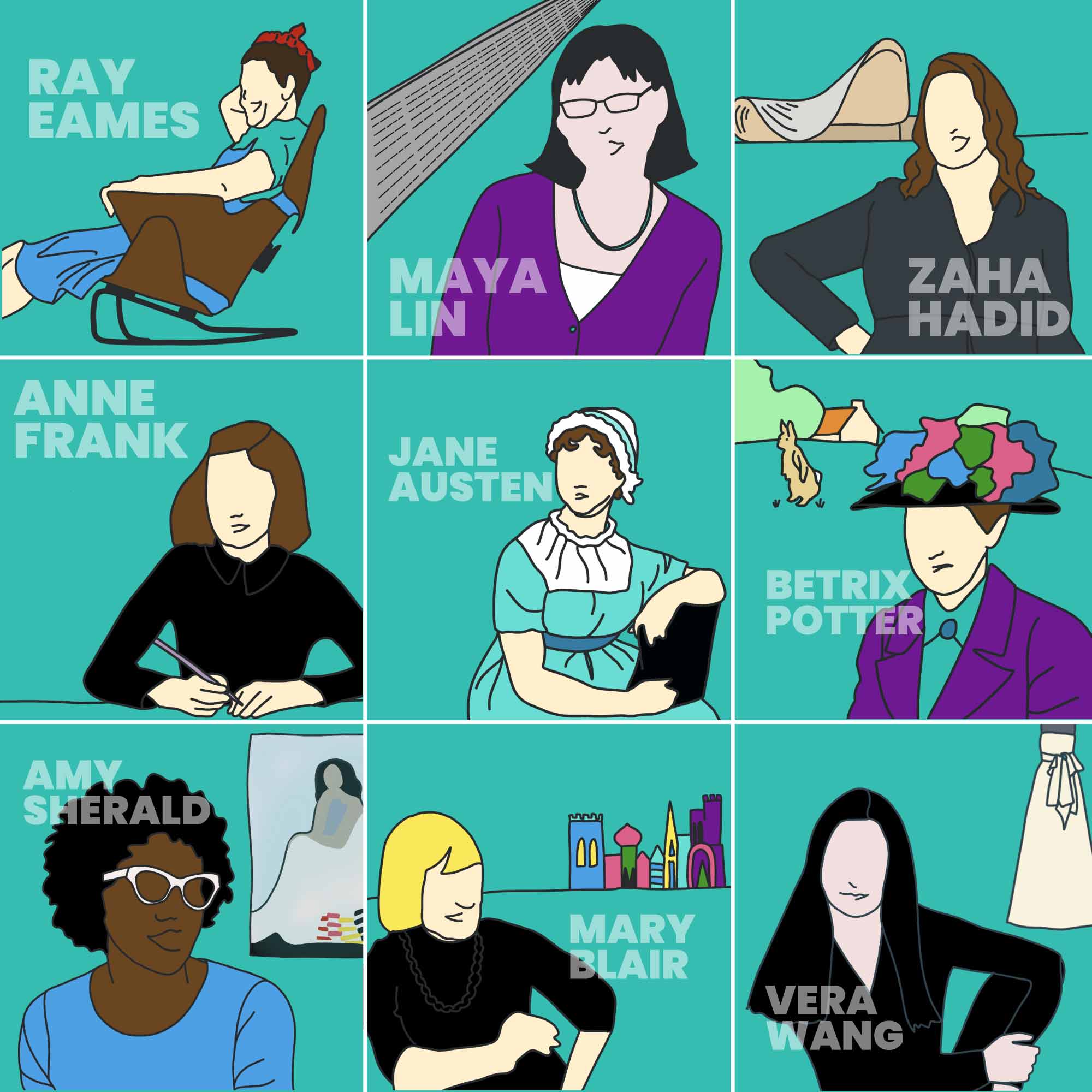 Ray Eames
Ray-Bernice Alexandra Kaiser Eames was an artist and designer, who worked creatively with her partner, Charles Eames and the Eames Office. She has made groundbreaking contributions in the fields of architecture, graphic design, textile design and furniture.
Maya Lin
Maya Lin is a designer and sculptor. In 1981, she received national recognition after winning a national design competition for the Vietnam Veterans Memorial in Washington, DC. Lin has designed many memorials, public landscapes and sculptures. Besides her historical memorials, Lin is also known for environmentally-themed artistic works.
Zaha Hadid
Zaha Hadid was a British Iraqi architect, artist and designer, whose major works include the London Aquatics Centre for the 2012 Olympics, the Broad Art Museum, Rome's MAXXI Museum and the Guangzhou Opera House. Hadid was the first woman to receive the Pritzker Architecture Prize and in 2012, was made a Dame by Elizabeth II for her contributions to architecture.
Anne Frank
Anne Frank is one of the most discussed Jewish victims of the Holocaust. She is mostly known for the publication of The Diary of a Young Girl, where she details her life in hiding from 1942 to 1944, during the German occupation of the Netherlands in World War II.
Jane Austen
Jane Austen was a novelist known widely known for her novels, whose plots explore women's dependency on marriage in the hope of gaining positive social standing and economic security.
Beatrix Potter
Beatrix Potter was a writer and is widely known for her children's books, such as The Tale of Peter Rabbit. Overall, Potter wrote thirty books, with her twenty-three children's tales being the most popular.
Amy Sherald
Amy Sherald is an American painter, specifically a portraitist who portrays the Black-experience through her work. In 2017, Sherald was selected by former First Lady Michelle Obama to paint their official portraits.
Mary Blair
Mary Blair was an artist and animator who produced much of the art and animation for The Walt Disney Company. Her drawing concepts were used for films, such as Alice in Wonderland, Peter Pan, Song of the South and Cinderella.
Vera Wang
Vera Ellen Wang is an American fashion designer based in New York City who designs wedding gear, evening wear and designer costumes. Her wedding gowns have been worn by numerous celebrities including Alicia Keys, Victoria Beckham, and Hilary Duff.