Flavor 360 Thanksgiving Influencer Campaign
For Thanksgiving this year, Flavor 360 was serving up all the fixins (and pie, of course!) so all hosts had to worry about was the turkey. To get Flavor in front of a wider audience and promote these side dishes, we planned and executed an influencer campaign on Instagram.
From start to finish, we contacted local micro-influencers, shared post guidelines and coordinated a posting schedule for this promotional content. As a result, we partnered with 3 influencers who shared this content. We saw a 20% increase in followers on the Flavor 360 Instagram with over 2,000 impressions, 176 profile visits, 29 website taps and 88 content interactions. 
This all accompanied our organic posts and email marketing efforts across Flavor's channels.
---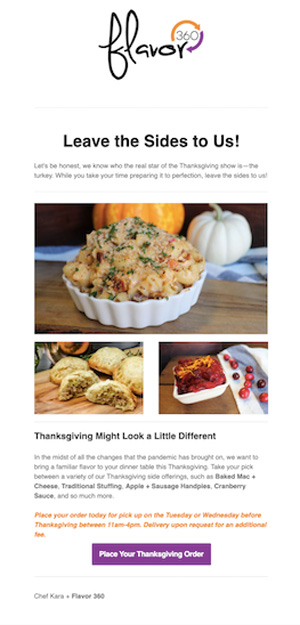 Influencer Posts